HORROR-SHOP: the non-compromising messenger of underground cultures!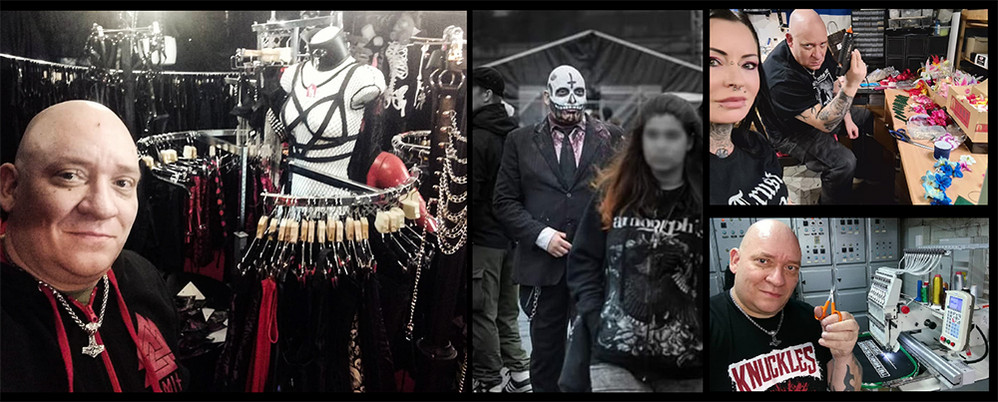 How it all began
It all started out pretty small, like many good things in life often do. I started to offer occult literature to people via our movie crew's website, and soon I had already photographed and designed the first Horror-Shop t-shirt. (Well, actually it was a Blood Ceremony Films t-shirt, but close enough)
Back then we didn't have our own studio, so the photograph sessions took place in the living room of yours truly. The walls and floors were covered in plastic bags to avoid the blood getting everywhere. To my surprise, I noticed that the t-shirt actually sold well. Not grandiosely, but in decent measures anyway and it was followed by the next design and then the next and so on. After a while the amount of products had grown into measures where it was neccessary to start considering an actual webshop for us.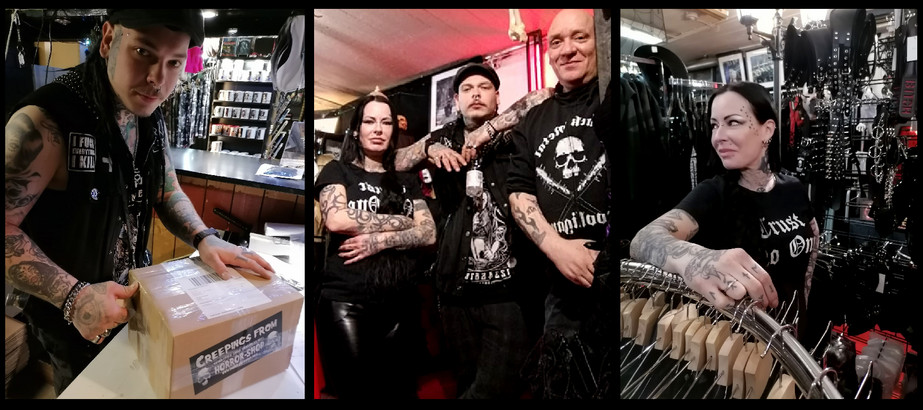 The little shop of horrors operated from my house for a long time before it was time to open a small store to Sörnäinen, Helsinki in 2011. Before that, my office was filled with boxes and I ran from event to another with our merchandise. At some point there were just too many CD's, t-shirts and other freaky articles to run the business from "at home"-basis anymore. Also, until opening the brick & mortar store, this all was merely a hobby and I was working in a 9-5 job at the same time. When ICT companies were repeatedly facing employee co-operation negotiations and yours truly felt their consequenses for the second time already, I decided to make the crucial move and start working as a full-time enterpreneur. It's been one hell of a road, getting used to massive decrease in standards of living etcetera, but it's been totally worth every sacrifice. Since choosing this way of life there hasn't been a single morning I hadn't felt motivated and ready for business. Slowly you'll get used to being broke too, at least when it is the price of doing what you love!
The best part in this job is that every weekend you get to see gigs you'd go to anyway, see all the friends you didn't have time for when being consumed by the ICT vortex, and you really get to actualize your potential and reach toward your dreams. The days consist of music, movies, handicraft, drawing, photographing and studying various interesting themes, but they also contain countless miles on the road and nocturnal load-in sessions carrying merchandise boxes. Not everyone has what it takes, but I couldn't imagine myself doing anything else anymore.
BLACK METAL – while we have a significant selection of products for black metal audiences, we also offer excellent assortment of cd's, patches, textiles, pins and other gear for friends of other metal subgenres like death, thrash, viking, pagan, folk and heavy metal. We are one of the biggest companies in this scene and co-operate with many other companies sharing the same field of activity. Our album repertoire is very comprehensive and growing all the time, and same applies to other products. PSYCHOBILLY – This is the other great love of the company's founder and therefore it gets noted the way it deserves! We maintain a great selection of albums and aim to grow it whenever suitable releases see daylight. We create and draw fitting t-shirt designs but also buy them from around the world and for we're not outsiders in this scene, we expect high interest towards them for we truly know what our friends want. Also beanies, patches, jackets and hoodies belong to our range and more products are produced whenever we have the time.
HORROR and the OCCULT are an inseparable part and a combining force in our business. Without the wretched playground of these two Horror-Shop wouldn't even exist.
GOTH, TATTOO, BIKER, AMERICAN CAR, MILITARY & BAD ATTITUDE boogies also hold a special place in our hearts and less surprisingly we let that shine on the outside as well. Every now and then it feels like there's way too many interesting things and way too little time to do everything or visit every event we'd like to participate. On the other hand this means there's no time to be bored or inactive. Chaos keeps our engine going!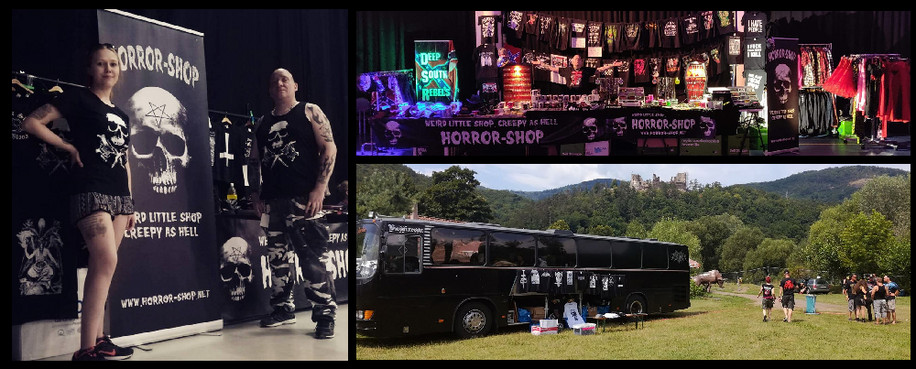 Horror-shops T-SHIRTS are a living legend already! Throughout our existence we have drawn and designed our own t-shirts and therefore they cannot be found from anywhere else - except from our authorised retailers. They have been found obscene and offensive as well as delightful and awesome, and they shall do both in future as well. Little snowflakes may cry, bible thumpers get outraged and all kind of scum of the earth get offended but they won't stop us : filth and decay shall prevail! We are here to serve the underground audiences and to them we'll always remain loyal. Sure, our selection will expand but we'll never abandon the rugged and barren core of our vision. And this doesn't only apply on t-shirts, but all the products we design and create such as MUGS, JEWELRY, PATCHES, BEANIES, CAPS and more.
By buying your products from Horror-Shop, you'll also support Finnish enterpreneurship and DIY handcraft. Remarkable amount of our products is being pressed in our home country, the jewelry is mainly produced as handcraft at our store as well as mug prints and patches. By ordering your albums from us, you'll ensure that the brick & mortar store tradition lives on and you as well as other friends of the underground have a place to meet people, explore physical album selections and see how the products actually look like. At times Horror-Shop is a club-like place where friends come to meet each other – and we have nothing against that. As we say, "you may come as a customer and leave as a friend". Our customer service is always top notch, yet all kinds of assholes will quickly get to know we don't tolerate bullshit even if we are strictly professionals in what we do.
You can see us at gigs or festivals almost every weekend and we gladly accept your requests in case you have an event that needs more spice and variety! Horror-Shop is in itself a good reason to attend into an event and therefore our tent/desk/stall is always packed. Why hire just a merch guy, when you can have so much more?
-PääPerkele-